If the following questions and answers do not match the questions you have, click on Contact Us from this page to go directly to a General Questions and Comments contact form.

How much of my donation goes to help people in need?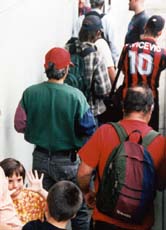 Last year The Salvation Army spent $1.83 billion serving people in need. Over 83 cents out of every dollar, $1.52 billion went to services while 4 cents went to fund raising and 12 cents went to management and general expenses. The actual costs for each community vary due to regional economies. In King County The Salvation Army spent 83 cents out of each dollar to helping people, 7 cents to fund raising and 10 cents to management and general expenses. Last year The Salvation Army spent $15.7 million.

What is The Salvation Army's mission?
The Salvation Army, an international movement, is an evangelical part of the universal Christian church. Its message is based on the Bible. Its ministry is motivated by the love of God. Its mission is to preach the gospel of Jesus Christ and to meet human needs in His name without discrimination.

Why is The Salvation Army called "America's Favorite Charity?"
The Salvation Army is privileged to be the charity receiving the highest amount of public contributions. Other nonprofits may have a higher income - generated by sales, memberships or government funding - but the general public has entrusted The Salvation Army with the most cash contributions, legacies and bequests, gifts in kind and United Way contributions.

Is The Salvation Army a church or a charity?
Both. The Salvation Army is a charitable organization under Internal Revenue Code Section 501(c)(3). Leadership is provided by officers who are ordained clergy. Members of the congregation are soldiers and adherents. Employees (lay staff) assist with finances, computer services, fund raising, counseling and casework services. Community leaders volunteer their expert advice and counsel to Salvation Army officers by serving on Advisory Board. Advisory board members assist The Salvation in developing programs, finances, long-range planning, property and public relations matters.

What does The Salvation Army believe?
As a church The Salvation Army's doctrines are derived from the teaching of John Wesley and the evangelical awakening of the eighteenth and nineteenth centuries. Salvation Army doctrine comes from Methodism. There is strong emphasis on regeneration and holy living, conviction that the gospel is for everyone and a concern for humanity's free will. See Doctrines of The Salvation Army. There are official Positions of The Salvation Army on social issues.

I know that The Salvation Army does "Good Work," but what do you do?
Most people know The Salvation Army by the bells and red kettles at Christmas or thrift stores. These are two of the Army's efforts and because they are nationwide most people know about them. What is difficult grasp is that the Army in each community is different. The Salvation Army provides emergency assistance in most communities. Emergency assistance is help with basic human needs for food, shelter, heat, clothing and other necessities. Each Salvation Army strives to establish programs designed to meet the needs of its neighborhood. For example, if there are three food banks in a town, rather than hand out groceries too, The Salvation Army might choose to serve meals to those who are unable to prepare their own meals. The Army is different in each community in order to meet unmet or emerging needs. The Army works with other charities to conserve limited resources for helping those in need and to prevent duplications of services.

There isn't a Salvation Army in my community. Why should I give?
While you may not see a Salvation Army facility, it's very likely that the Army is at work meeting human needs in your town. In 150 small towns and communities the Army has Service Extension Committees. These are teams of three to four volunteers who are given Salvation Army funds to help with basic needs such as food, shelter and clothing. These volunteers may be a local pastor, fire or policeman or employee in another agency. Disaster relief is also provided to workers and victims by neighboring Salvation Army staff and volunteers. When someone from your community becomes homeless or seeks special assistance it is likely they that they will travel to a larger city for the help they need. Shelters and services for homeless families, individuals, victims of domestic violence, those seeking rehabilitation are available in larger communities.

How did the red Christmas kettles come about?
In 1891 a Salvation Army captain in San Francisco wanted to offer a free Christmas dinner to the area's poor, but had no idea how to pay for it. Thinking back to his early days as a sailor in Liverpool, England, he remembered a large pot on the landing into which passersby tossed charitable donations. By the next morning permission was give to place a large pot at the Oakland ferry landing in a conspicuous position, so that all passing by would see it. Thus, Captain Joseph McFee launched a tradition that has spread throughout the United States and around the world. By 1895 the kettle was used at 30 Salvation Army sites on the west coast and spread eastward by 1897.

Why have I seen two Salvation Army logos?
The Salvation Army has two logos. One is a crest with a crown, cross and the words "Blood and Fire." This is a symbol of The Salvation Army church and is intended for "in house" use in church-related activities. The second logo is a red and white shield imprinted with "The Salvation Army." The shield represents The Salvation Army's social services to the general public.